3-Month 0% Interest Instalment Payment is now available with Atome. Claim your EXTRA RM15 off for new Atome users! 🤩
Experience Love and Neck Tension Relief in One BoxEnjoy RM50 discount + FREE shipping, all for you! 
* Free shipping fees for West Malaysia only
What makes Anzen™ Neck Massager a great gift for you and your loved ones:

✔️ Perfect for family and friends
✔️ The most effective neck pain solution
✔️ 5 neck massage styles with 15-level intensity 
✔️ Thermotherapy for relaxation and pain relief
✔️ Turns OFF automatically after 15 mins. session
✔️ Large battery capacity – 10 sessions per charge
✔️ USB charging – use it anytime, anywhere
Why go to a spa for a neck massage when you can have it anytime, anywhere. Let your loved ones experience a soothing and blissful neck massage with Anzen™.
Our neck massager features 5 different neck massage styles; pressure, push, hammer, rub, and pinch. You can adjust the intensity of the massage from 1 to 15 so you can easily find your sweet spot. It also features thermotherapy good for stiff and sore neck muscles.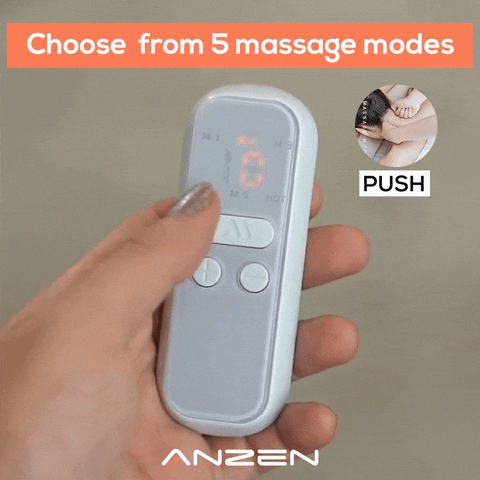 Whether you're working from home or in the office, a student, a gym junkie, industrial worker, or a housewife, you can now enjoy a pleasurable, fulfilling neck massage anytime you want. We carefully engineered Anzen™ to be seamless, lightweight, and have a comfortable design that allows you to wear it anywhere.
Please take note of the following:
Do not use the product if you are under medical treatment and with the following medical electronic devices:

 

Heart pacemaker or any other implantable medical electronic devices
Artificial heart or any other life-supporting medical electronic devices
Electrocardiographs and other medical electronic devices

Prevent electrode contact with wounds/scars.
Do not apply near the heart, head, mouth, or genitals.
Do not use at places with high temperature such as direct sunlight or high humidity such as bathroom and wet hands.
Whether for yourself or for your loved ones, it's simply perfect with our upgraded packaging 🎁
What's inside the box:
1 x Anzen™ Intelligent Neck Massager
2 x Hydrogel Patch (Free another pair)
1 x Remote Control 
1 x Charging Cable
1 x User Manual